The Global Memorandum of Understanding is an effort by governments and industry who commit to working together to enable 100% zero-emission new truck and bus sales by 2040.
"We are here to accelerate the transition to zero-emission heavy-duty vehicles," says CEO Anja van Niersen. "By rolling out heavy-duty public charging infrastructure, we will show the market that zero-emission long-haul transport is not only possible – it is profitable. By signing the Global MOU, we hope to encourage others to step up their own commitments and join us on the journey to zero-emission."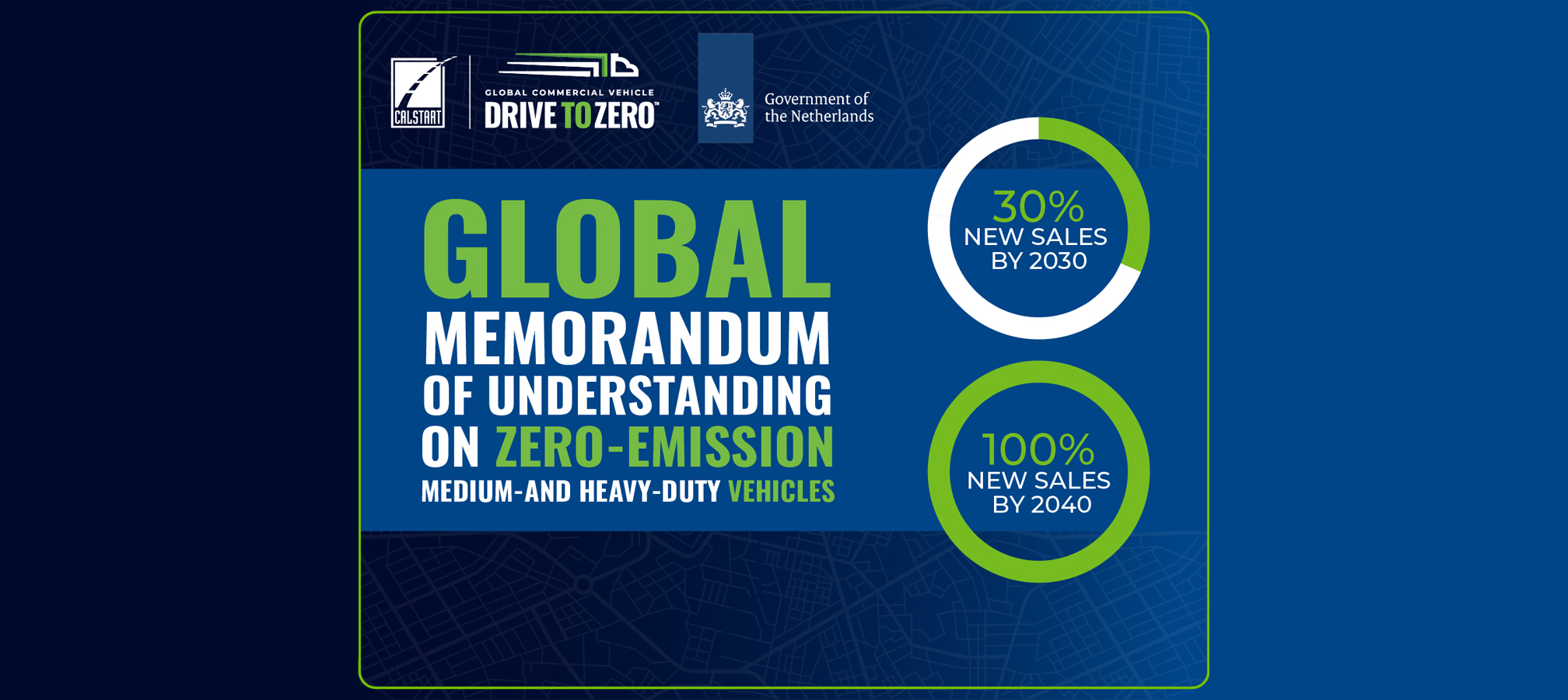 The Global MOU aligns national governments, businesses and other organisations within the road transport industry on a joint ambition, aiming for 30% of new medium- andheavy-duty vehicles to be zero-emission by 2030, and 100% by 2040, to facilitate net-zero carbon emissions by 2050.
For infrastructure providers like CV Charging Europe, this means supporting the rollout of zero-emission vehicles and striving to provide sufficient charging capacity and grid integration to ensure that access to charging infrastructure and green energy is not a barrier to zero-emission transformation.
"CV Charging Europe is uniquely positioned to accelerate zero-emission truck infrastructure in one of the largest vehicle markets worldwide. It is working strategically with its partners to accelerate safe, economical, and convenient public charging for trucks, while catalysing technology innovation and increasing collaboration," said Dr. Cristiano Façanha, Global Director for clean transportation accelerator CALSTART. "By endorsing the Global MOU, CV Charging Europe is demonstrating its commitment to raising our collective global ambition to accelerate zero-emission commercial vehicles in Europe and beyond."
The Global MOU was launched at COP26 in 2021 as a joint effort of the government of the Netherlands and CALSTART's Global Commercial Vehicle Drive to Zero Program. It brings together leading countries, infrastructure providers, vehicle and hardware manufacturers, transport companies, and others on a joint ambition for a pathway to 100% zero-emission medium- and heavy-duty vehicles.
A committed provider of public charging solutions for heavy-duty vehicles in Europe, Commercial Vehicle Charging Europe will install and operate at least 1700 public charge points for heavy-duty trucks and coaches by 2027.
More info: Global Commercial Drive To Zero Program — COP27: USA, Ukraine, Ireland, Aruba, Belgium, Croatia, Curaçao, Dominican Republic, Liechtenstein, Lithuania sign Global MOU, support path to 100% new truck and bus sales by 2040 | 11.17.22 (globaldrivetozero.org)